Success Stories – Jobseeker Perspectives
What is success? 
At Connect, we understand that success means different things to different people, especially when it comes to work.
For some it means getting your first job.
For some it means finally landing the job you've always wanted.
For others it means finding a place where you feel you belong and are valued.
However you define success, we think the stories below show that when employers recognize the value that people with intellectual disabilities bring to the workplace, everybody wins.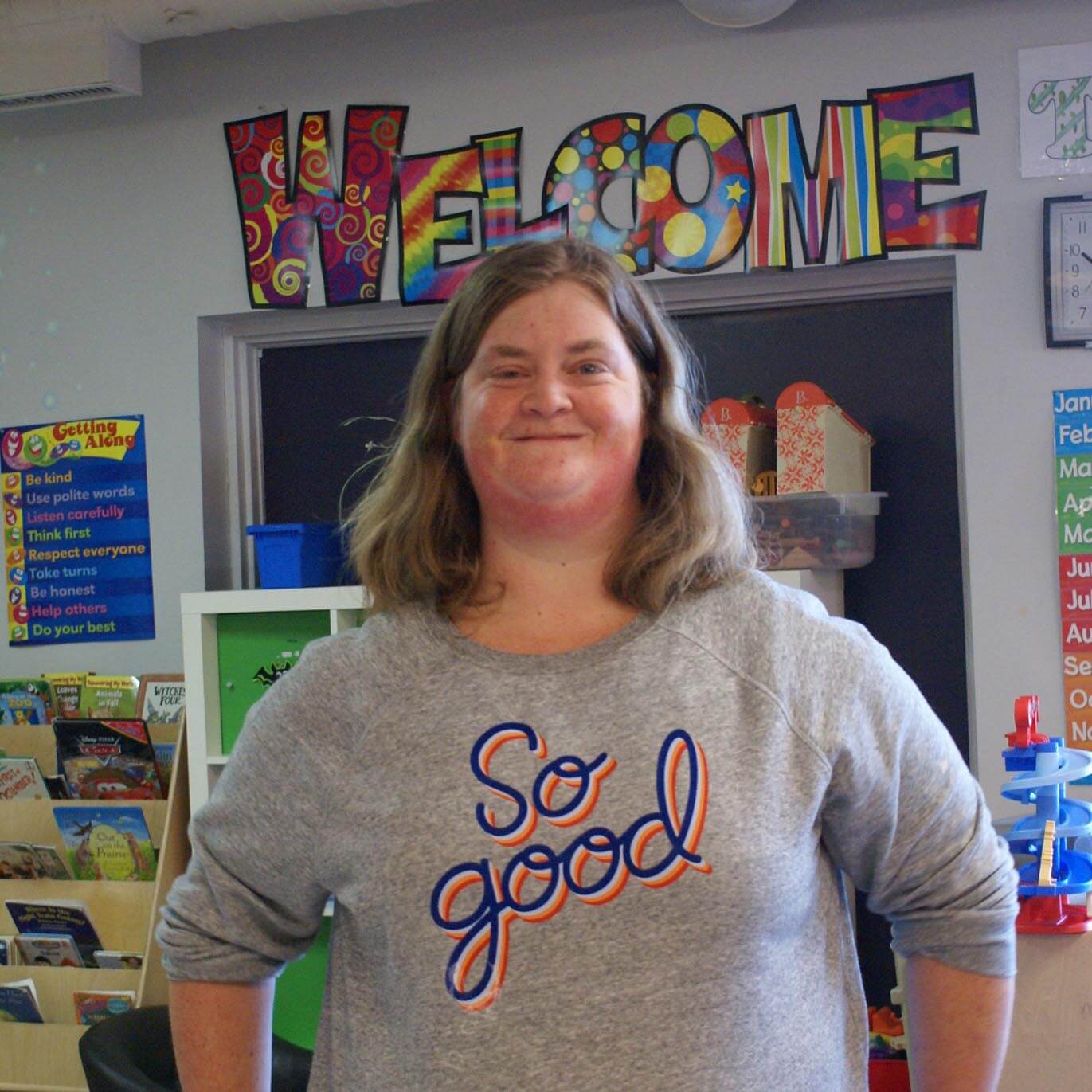 Kristin
Panda Bear Daycare
Kristin Mellon is a Child Care Assistant at Panda Bear Daycare, a position that is a perfect match thanks to her gift for working with children.   Kristen came to Connect while still in high school, looking for support to find work.   Like many of us, Kristen worked at a few jobs before she decided that child care was the career for her.   Today, she works full-time caring for children and creating and guiding them through activities.  Kristen loves her work, and her supervisor Micheline says, "Kristen has a huge heart and she's a big part of the team."   Read more about Kristin's story here.
Kari
K9 Storm
Kari is employed with K9 Storm, where she works on a part-time basis.   K9 Storm has been an excellent employer for Kari, providing a progressive work environment that offers unique benefits and a commitment to accommodating Kari's support needs.    Kari thrives in settings that provide clear structure and predictability, which K9 has been able to provide.   When K9 Storm began planning a move to a new location, they knew that Kari would experience some anxiety related to the changes, and were proactive in reaching out to Connect to develop a plan to support Kari.  
As K9 Storm confirmed the new location for their business, plans were initiated to support Kari.    The move would result in a number of changes for Kari – a new bus route to learn, a different and extended work schedule, and some new tasks.   Connect began the work of providing Kari with additional supports to adjust to the coming changes.   We helped her identify and plan a bus route to the new work location, we increased our emotional supports to help her cope with increased levels of anxiety, and coordinated with her residential supports to adjust their support schedule around her new work schedule. 
Being pro-active in identifying potential stressors for Kari, enabled Connect to work effectively with her employer, family and other support providers to develop a plan for the upcoming transition, while minimizing the stress and anxiety for Kari.    
As a move date was confirmed, Connect increased Kari's supports, and provided her with details for her new bus route.  K9 Storm confirmed Kari's new schedule, which would include an increase to 12 hours per week, and Kari's inclusion in their complimentary lunch and fitness program.    Thanks in part to planning in advance and working together to prepare for the change, Kari managed all of the changes successfully!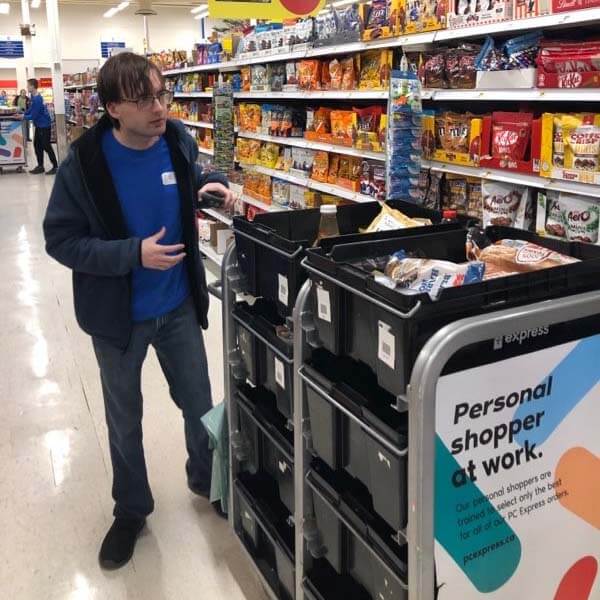 Devin
Real Canadian Superstore
Starting a new job is stressful at the best of times. For Devin, who was scheduled to start his new job at the Real Canadian Superstore(Superstore) in early March 2020, the COVID-19 pandemic created an unprecedented level of uncertainty. Devin's journey to employment at Superstore began before anyone realized the scope of COVID-19. But as he, his employer, and his staff from Connect were planning for his orientation and start date, everything changed. As the new reality of grocery store operations were being figured out, we all wondered whether it might be better to put a hold on Devin starting his new job.
As we explored what would be required to move forward, we realized that we needed to at least try. For Devin, whose disability makes it difficult to start new things and deal with change, but also enables him to work effectively with clear protocols and structure, the thought of how to start this new job was challenging. We would have to rethink how that would happen. But Devin had been looking for work for a long time, and being offered his first paid job was a hard won victory, not to be given up without a fight. Together with Devin and Superstore, Connect formed a plan to support them both through this new job start, adapting the usual methods and processes to the new COVID-19 reality. Supports that Connect would usually have provided in person at the business, like attending orientation and providing onsite job coaching, weren't an option. Instead, we set up a system of communication with Devin, his supervisor and staff using texting, phone calls and video calling, to provide job coaching, advice and employment counselling to support Devin's onboarding process.
As Devin eased into his new job, and we had all begun adapting to the new precautions and protocols, we realized limited onsite supports were necessary to help Devin continue adapting and learning his new job. We slowly began adding in a few onsite visits, incorporating social distancing, hand-washing and other precautions to ensure Devin was supported in a safe manner for all involved. Today, Devin is still learning, and is experiencing the challenges that normally accompany a new job, plus a whole host of other challenges and stresses related to COVID-19.  No one know what the future holds for Devin and Superstore, but we do know that supporting someone with a disability to start employment in such uncertain times is possible.
During these times, our solid belief that people with disabilities bring unique gifts, skills and abilities to the workplace hasn't changed, and in fact it has been reinforced. We were all pushed to adapt, rethink how and why we provide supports, and to develop new and creative ways to meet the needs of the people and employers we support. People with disabilities are among the unsung heroes of this pandemic, as employees working in environments deemed essential. Doesn't that confirm without question the value of what they bring to the workplace?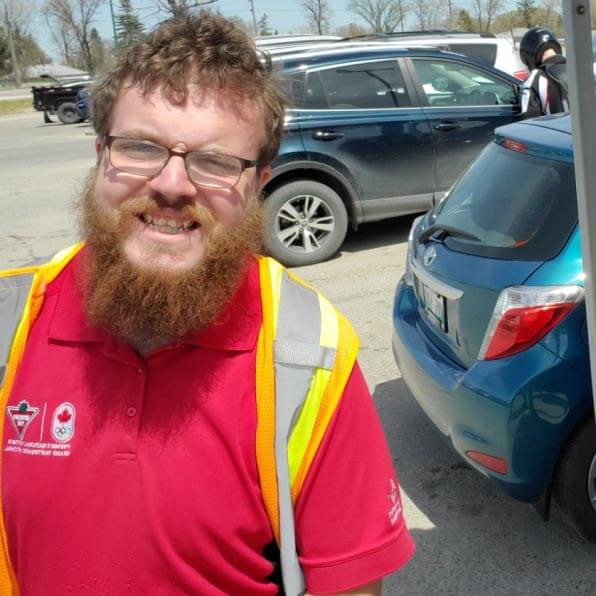 Morgan
Canadian Tire
Morgan was well established in his job as a courtesy clerk at Canadian Tire when COVID-19 hit, and like many others, he experienced a reduction of hours in the early months due to a downturn in business. As his employer was deemed an essential business, Morgan in turn became an essential worker, and continued to work. The COVID crisis created its share of challenges for Morgan, including stress related to adopting new protocols for his safety and the safety of customers. Through it all, Morgan continued to provide professional, reliable supports to his customers, and even had the opportunity to help train new staff.  As summer progressed, the store even became busier, leading to increased hours for Morgan. After a much deserved vacation and rest, Morgan returned to work, and has continued to be a valued member of the team at Canadian Tire meeting the needs of his employer and the community.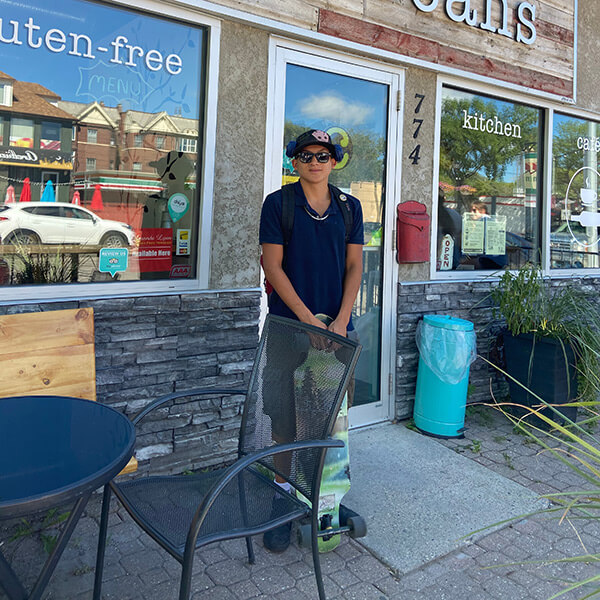 Lorenzo
Cocoa Beans Bakeshop & Cafe
Lorenzo started working with Connect in February 2020, and from the beginning he was eager to find employment. He gladly participated in the pre-employment and job search activities that Connect offered him to start, and was looking forward to finding employment when COVID-19 put a halt on his plans. With job development services temporarily put on hold while Connect developed plans and protocols for continuing services during the pandemic, Lorenzo continued to meet with his Connect staff remotely.
Lorenzo's focus and determination to find employment never wavered, and when his job search finally resumed in late June, he was presented with an opportunity. The owner of Cocoa Beans Bakeshop & Cafe had reached out to Connect, looking for a reliable, experienced candidate to join her team as a dishwasher. The opportunity had been in development prior to COVID-19 hitting, and now with her business back on its feet and busier than before, she needed help.
Lorenzo jumped at the opportunity to do a one day working interview, and his performance was so impressive he was offered a job on the spot.  Lorenzo continues to work at Cocoa Beans, where he is an important and valued member of the team.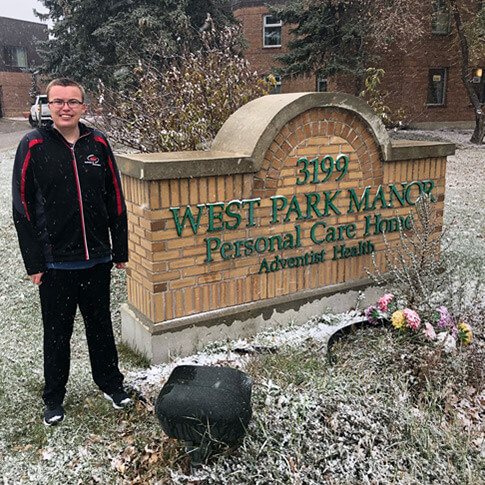 Brett
West Park Manor
Brett G joined Connect in October 2019 with a clear employment goal – to work with seniors in a recreation role.
Prior to joining Connect, Brett had begun volunteering with West Park Manor, which he continued to do for about 4 hours per week. During this time Brett was also enrolled in the Therapeutic Recreation Facilitator for Older Adults program at Red River College. Both his volunteering and his schooling were purposeful, and geared towards Brett's employment goal.
Initial feedback from Brett's supervisor was very positive, but indicated that Brett needed to build skills and complete his education to prepare for type of paid role he was interested in at West Park Manor. Another factor that needed to be considered was the impact that Brett's medical condition had on his employability. His condition affects the frequency and length of shifts Brett can manage, but we felt that it would not be a complete barrier to employment.
With this knowledge in hand, we focused our efforts on supporting Brett to achieve his long-term employment goal, while also exploring options for employment that might be more achievable in the short term.
Brett continued with his schooling, volunteering, and working with Connect to develop his pre-employment skills and job search throughout 2019 and early 2020. With the onset of COVID-19 in March 2020, Brett and West Park Manor made the difficult decision to pause his volunteer placement for the sake of the residents and his own health. Brett remained committed to working with Connect and we adapted our approach and transitioned to meeting virtually. In addition to continuing to work on job searching, interview preparation and resume writing, we supported Brett to build new skills by accessing online training for things such as practicing cash counting and practicing mock telephone interviews.
As the months progressed, Brett decided to focus exclusively on pre-employment training in the short-term, as he and his family felt it was too high risk for him to be working in the community due to his medical condition.
The fall brought new changes, and in September 2020, Brett's supervisor reached out to invite him back to his volunteer position. Brett agreed, and soon after returning, West Park Manor offered him a paid casual position. While the position was casual, Brett was very excited and happily accepted the position. It fulfilled his long held goal to find employment at West Park Manor in a role related to his volunteer experience and education.
Returning to work came with its share of challenges, but Brett met the challenge head on, learning the new protocols to follow to help keep himself and others safe. Brett continues to work at West Park Manor, where he is happy to put the experience and skills he learned at school and as a volunteer to work.